A powerful education community.
Ready to unleash potential, together?
As the pandemic wreaks havoc on communities, everyone is on edge. There's never been a more difficult time for educators, and we're deeply grateful for your heroic efforts. 
Amidst this disruption, it's tempting to take a "let's just get through this" mindset. After all, many already call this a 'lost year.' But in this upside-down education world, there's never been a better time to innovate — in small ways, and big.
For those ready to pounce, we offer a mosaic of learning innovations, organized with a powerful change model that:
Rallies your community to an aspirational vision of what school could be
Supports teacher-led innovation that elevates learning and life outcomes.
You entered the profession dreaming of schools that engage and inspire students, that prepare them for life. With the door to change wide open, don't settle. Barge through. Why not now?!
Ready to unleash potential, together?
Join the What School Could Be Community!
Our What School Could Be initiative is a community-powered platform that — we immodestly claim — is the best professional development ever offered to educators. Based on your great work in the field, its confidence-building steps will unleash student — and teacher — potential. Check out the short video overview and join our fast growing community now! Also available on iOS and Android.
Change can be hard, but it doesn't have to be. Real change starts with a bias for action. Small steps that build confidence and spark big change.
This site helps you transform learning. It offers a mosaic of small steps you can try tomorrow. Explore a few (e.g., Curiosity Time, Genius Time) — each inspired by remarkable educators in the field, and brought to life with compelling video. With minimal downside and profound upside, your faculty's innovation success will spread . . . and stick.
This Innovation Playlist channels small steps into big community-embraced progress. This powerful change model is described below by the remarkable Sir Ken Robinson. To gauge its scope, explore some 'big change' albums (e.g., Mobilize Your Community, Student-Driven Learning), their on-ramp steps, and this Illustrative Use Case.
Welcome to the Innovation Playlist
The Innovation Playlist helps you mobilize your community to embrace change and build consensus on your North Star. Then, it empowers teachers to lead the way, innovate in their own creative ways, and hone expertise through shared success. This powerful change model comprises small uplifting steps to big changes that elevate learning and life outcomes. 
Educators have endured endless top-down edicts that they have no voice in, and don't believe in. This model stands in stark contrast. It helps you set the conditions that empower joyful, purpose-filled learning. It trusts teachers. It's based on what's proven effective in the field.  So get started . . . today!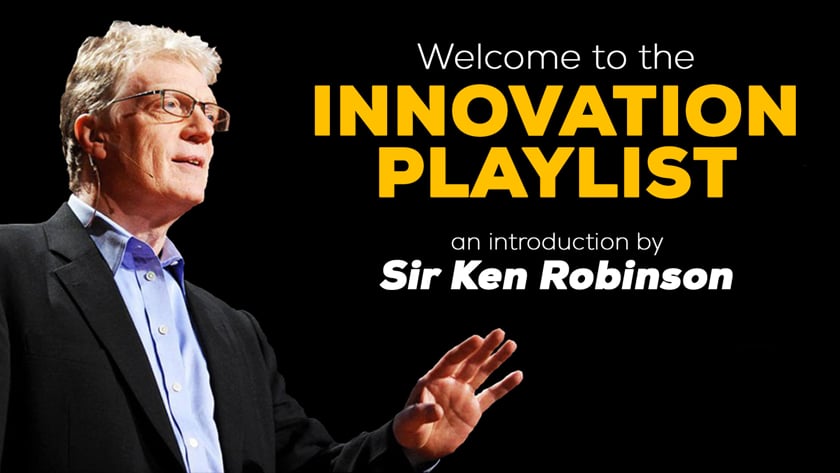 Drawing on Best Practices
Innovation expert Ted Dintersmith spent an entire school year on a most unusual education trip. He went to all 50 states, visited 200 schools, and convened 1,000 community forums and meetings. He set out to raise awareness about the urgent need to reimagine education to prepare students for the career and citizenship demands of an increasingly-innovative world.
But as he traveled, Dintersmith met innovative teachers all across the country — teachers doing extraordinary things in ordinary settings, creating classrooms where children learn deeply and joyously.  Students engaged and inspired by teachers who help children develop purpose, agency, essential skill sets and mindsets, and deep knowledge. The insights of these teachers offer a vision of what school could be, and a model for how schools can achieve it.
Supporting Change
In The Field
Already, the Innovation Playlist is catalyzing change in the field. Not just in a school, but across entire states. Consider Hawai'i, an emerging global education leader. Symbiotically, the Playlist features the work of many extraordinary educators in Hawai'i, while supporting informed learning transformations in classrooms and schools across the islands. Innovation is contagious and success begets success.
Led by Josh Reppun, a team in Hawai'i produced this great film titled, appropriately, The Innovation Playlist. It will inspire you, bring the Playlist to life, and show what's possible when educators are trusted to transform learning experiences, with a bit of support.
With Humility and Respect
This isn't about us. It's about you. We work hard to listen to and learn from remarkable educators in the field. Our goal is to capture your insights in ways that help all educators and schools elevate student learning outcomes . . . and life trajectories. Credit amazing educators in the field for what's good on this site. Attribute flaws to our small team. But please know we're doing our best to capture your insights, and we're oh-so-grateful that you fight so hard for the futures of our children, and our nation.